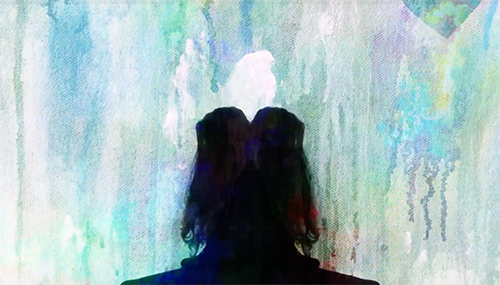 Artist Statement/ Biography
Multidisciplinary in her approach, Elise Bonato engages in combining performance, moving image, painting, drawing and other site-specific content to explore contemporary notions of the sublime. The contemporary sublime, within her practice, includes her exploration of the interconnection between the lived body and the metaphysical mind through immersive environments. It is the liminal space that exists between them that she attempts to visualise and create for the viewer's experience, in the work. With this, her practice is driven by "affect".
In the sensory experience of video installation, Bonato aims to capture what may be 'felt', evoking within the audience the sensation of encountering "unearthly beauty" — where the sublime and aesthetic distort to become the strange. There is potential in the work to create an interconnection between bodily sense and the metaphysical, in attempt to experience a "higher frequency" and state of being in which exists the sublime.
Elise Bonato's interest lies in further exploring the potential that the moving image has, as a medium, in informing the sublime for a contemporary context and presenting an experience in which envelops the viewer, compelling them to engage with a deconstruction of time and a sculptural redefinition of the sublime.
---
From Adelaide, Australia, Elise Bonato is a practitioner of the visual-aural arcane. Her predominantly experimental and performance-based visual art practice aims to create an oeuvre of elegiac beauty through moving image, installation, drawing and painting. Elise completed graduate studies in 2012, awarded with First Class Honours at the University of South Australia, with an investigation into the use of video installation as a means of presenting a contemporary sublime.
In recent years, she has exhibited locally in Australia as well as internationally in the United States, while also performing at a variety of arts festivals.
This Project Has Been Assisted By The Australian Government Through The Australia Council For The Arts, Its Arts Funding And Advisory Body, And The Dame Joan Sutherland Fund Through The American Australian Association.