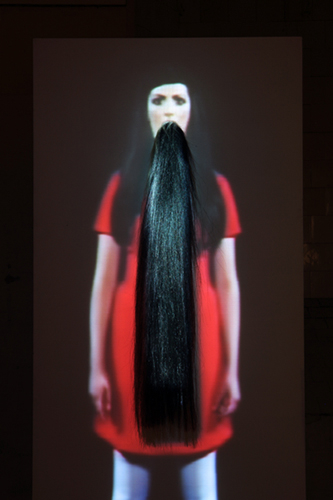 Artist Biography
Santina Amato is a video installation artist combing performance, video, sculpture and site-specific contexts to explore femininity and the female identity during the transitional age of adolescence. 
Amato's voyeuristic approach investigates the relationships woman have with each other, family members, members of the opposite sex and especially with themselves. Her work embodies the childhood world of fairytale and fantasy, adopting a deceptively childlike charm, logic and aesthetic, to transport the viewer into a feminine surrealist wonderland; a fairytale-esque environment where reality is questioned and fantasy becomes the norm.
By deconstructing linear ideas of time and space, Amato attempts to subvert conventional notions of video, resulting in a sculptural redefinition of the moving image.
Amato is based in Melbourne, Australia, dividing her time with the United States of America. She is the recipient of various travel grants, has been a finalist in many contemporary art awards within Australia and is a graduate of the Victorian College of the Arts.