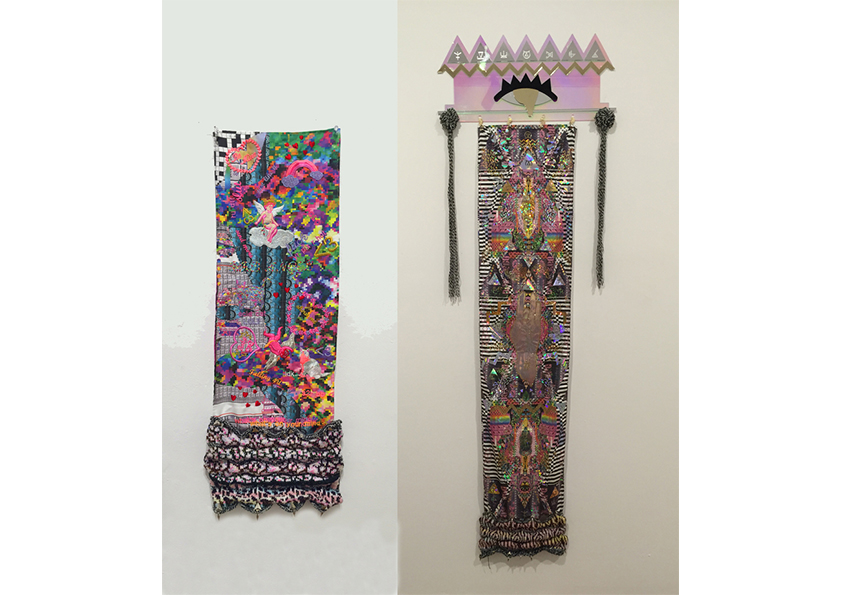 Artist Statement/ Biography
Smartphones and social media create instantaneous connection, we exist in an immediate web of likes, emoji and information. However, this mediated experience neglects the physical. Days and weeks can transpire undisrupted by immediate sensory experience, yet we're still intimately connected to the social network of our world. In light of this, Kate Geck attempts to create space for 'unmediated immediacy' – absorptive installations sensorially overloaded with colour and AV texture. These spaces are meditative - the wash of activity reinvigorates screen eyes; the soft spaces let hunched bodies stretch out. They disrupt the timestamps and binaries of interaction with quiet contemplation and reconnection to mind and body. At times, the works attempt to make material the immaterial world of data - how can bit based experiences translate into physical objects, and how can the real world be used to access digital content? Increasingly, Kate's work investigates the anxieties connectivity generates, and the way we might attempt to manage these anxieties through the very platforms that trigger them.
---
Kate Geck is an installation artist working with digital and sensory space. Her work explores connectivity and experience - what she terms 'mediated vs unmediated immediacy', in particular, the ways technology can skew and mask sensory experience. Her installations feature acrylic sculpture, kaleidoscopic projections, digitally printed substrates and augmented reality interactions. Based in Melbourne, Australia she is a CCD artist at Artful Dodgers Studios and lectures in Illustration at Melbourne Polytechnic.
Exhibitions include ISEA 2015 (Vancouver), International Centre for Contemporary Art (Singapore), NGV Studios, L'Atelier Kunst (Berlin) and festivals such as San Francisco International Art Festival, Nextwave, Channels, Liquid Architecture, 2High. She has received awards from Australia Council, City Of Melbourne, Ian Potter Trust, City of Yarra, NAVA, Arts Vic, Copyright Agency, commissions from State Library of QLD, Lifted Brow, Metaverse Makeovers, SIGNAL, Polyglot, Brisbane Festival and has been a finalist in numerous art prizes.