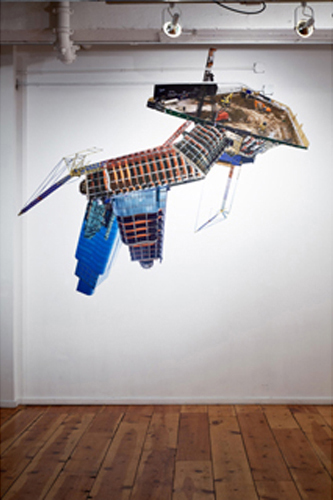 Artist Statement/ Biography
By documenting, deconstructing, and re-composing the organic and idiosyncratic architectural transformations evident on a macro and micro level within urban environments, Williams gives form to dissonance within the urban geography. Identifying and commenting upon the metamorphosis of space/place due to the renewal/disinvestment of inner-city areas is a driving force. Her use of photography is cumulative, drawing from archival and current self-generated images to build large-scale collage-type forms. Williams' site-specific compositions work around, through, and over shape, searching for the moment when the initial form "falls off". The work encourages the use of photography not as a tool to stop time, but instead to control the flow of time passing. At its core Williams' work is an amalgamation of traditional photographic languages and a syntax belonging to the twentieth-century sculptural tradition.
---
Jennifer Williams holds an MFA from Goldsmiths College in London and a BFA from The Cooper Union in New York City. Born and raised in rural SW Pennsylvania, Williams moved to New York to 1990. Over the last twenty years she has made the visual exploration of New York City a central theme in her collage and photographic work. Notable exhibitions include: A.I.R. Gallery, The Homefront Gallery, La Mama Gallery, Brown University, and Silvereye Center for Photography. Large scale works have been featured at the DUMBO Arts Festival, the HOWL! Festival, the Affordable Art Fair NY, and the Icebox @ Crane Arts. She is currently a 2011-2013 Center for Emerging Visual Artists (CFEVA) Fellow, as well as a former 2008-2009 A.I.R. Gallery Fellow. Her work has been featured in The New Yorker Photo Blog, Afterimage Magazine, Photographic Quarterly, and the book "A Stuck Up Piece of Crap: A Selected History of Stickers" (Rizzoli).