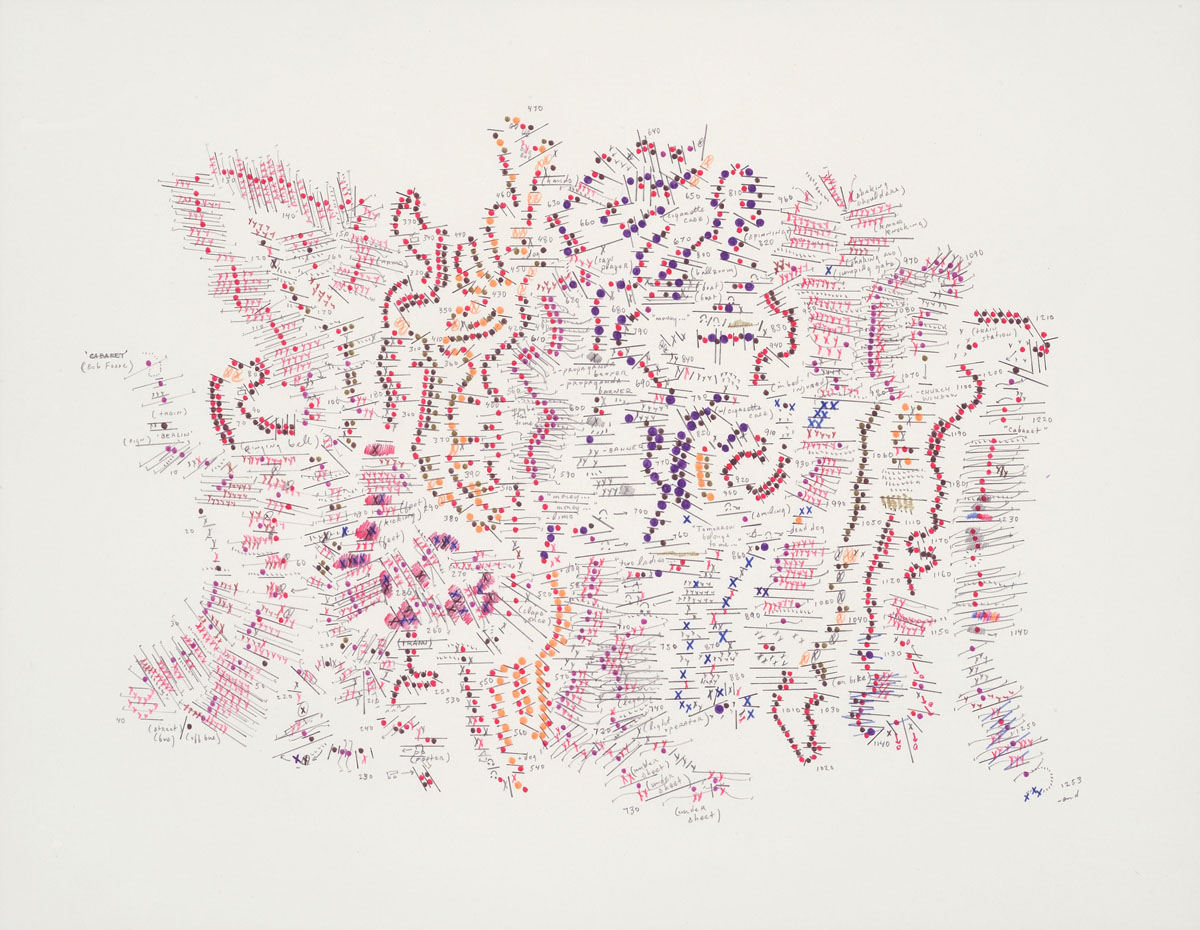 Artist Statement/ Biography
Brian Lund's drawings translate motion picture editing systems into abstract compositions.
Using his DVD player and laptop computer, he studies films of interest, creating an archive of edit cut lists, notes and film-still sketches that document specifics within a production. Much of what he pays attention to concerns the characters and events present in every shot, the way the camera moves, how one shot cuts to the next, the transitioning of different scenes, and other details. These characteristics are transcribed in his drawings as a series of dots, shapes, lines, dashes, and other marks, often accompanied by numbers marking edit cuts and brief written descriptions of selected shots.
His work may be best summarized as a synthesis of an engaged drawing practice with an exploratory examination of a particular cinematic trajectory. By combining his fascination with motion picture making with a highly personalized activity of markmaking, he can distinctly move through and reflect upon the varying degrees of content that exists throughout the film sources themselves. Visualized as an abstract graphic vocabulary, specific motion pictures can be developed and find expression through a multitude of compositional possibilities and visual arrangements.
---
Brian Lund (b. 1974, St. Paul, MN) received his MFA from Purchase College, State University of New York and his BFA from College of Visual Arts, St. Paul, MN. Recent solo exhibitions include Smith-Stewart Gallery, New York, NY, and the Feldman Gallery + Project Space, Pacific Northwest College of Art, Portland, Oregon. His work has been shown at numerous venues including David Krut Projects, New York, NY, The Drawing Center, New York, NY, The Bronx Museum of the Arts, New York, NY, Frederieke Taylor Gallery, New York, NY, Josèe Bienvenu Gallery, New York, NY, Moti Hasson Gallery, New York, NY, Real Art Ways, Hartford, CT, Here Arts Center, New York, NY, Gallery SATORI, New York, NY, and b42 Gallery, Oakville, Ontario, Canada. His work has been reviewed in The New York Times, Time Out New York, Art Papers, Art Review, Portland Mercury, and The Journal News. In 2008, he was a participant in the Artist in the Marketplace program at the Bronx Museum of the Arts. Lund is represented by Smith-Stewart, New York, NY.